// container width, slider nav dots color
GE Kitchen
Mobile Design, IoT
3 months
Role: Interaction Designer Intern
Overview
The Kitchen is one of the many efforts GE Appliances has made in the Internet of Things revolution. The Kitchen is a suite of apps provides remote controls for three wifi-connected kitchen appliances, including a Fridge app, a Dishwasher app and an Oven app.
I worked with the design team on the Oven app and facilitated the entire design process from start to finish. Also, by the time we started working on the Oven app, the Fridge app has already been designed, tested, and was under development. In the meantime, I was responsible to build a fridge hot water prototype and a click-through kitchen app demo for the salespersons on the sales floor (i.e. Home Depot) to facilitate the connected app demonstration to the customers.
Oven App
The Oven app is one of a bundle of apps in the Kitchen product suite, allows users to remotely turn on/off and preheat the oven, set timer alerts for baking, roasting, etc. and change temperature anywhere. My primary role included interaction (user flow) design, wireframing, prototyping and usability testing.
Wireframe
The Oven app shares the same typefaces, animations and navigation menus with the other two apps in the Kitchen suite thus contributes towards a cohesive user experience. User interaction of the Oven app varies quite a bit from the other two apps in order to serve the unique oven task flows.
Usability Testing
Prototypes of Oven app's main functions (as shown in the first wireframe) were tested with real users. We worked collaboratively with the Human Factor Specialist in user testing sessions.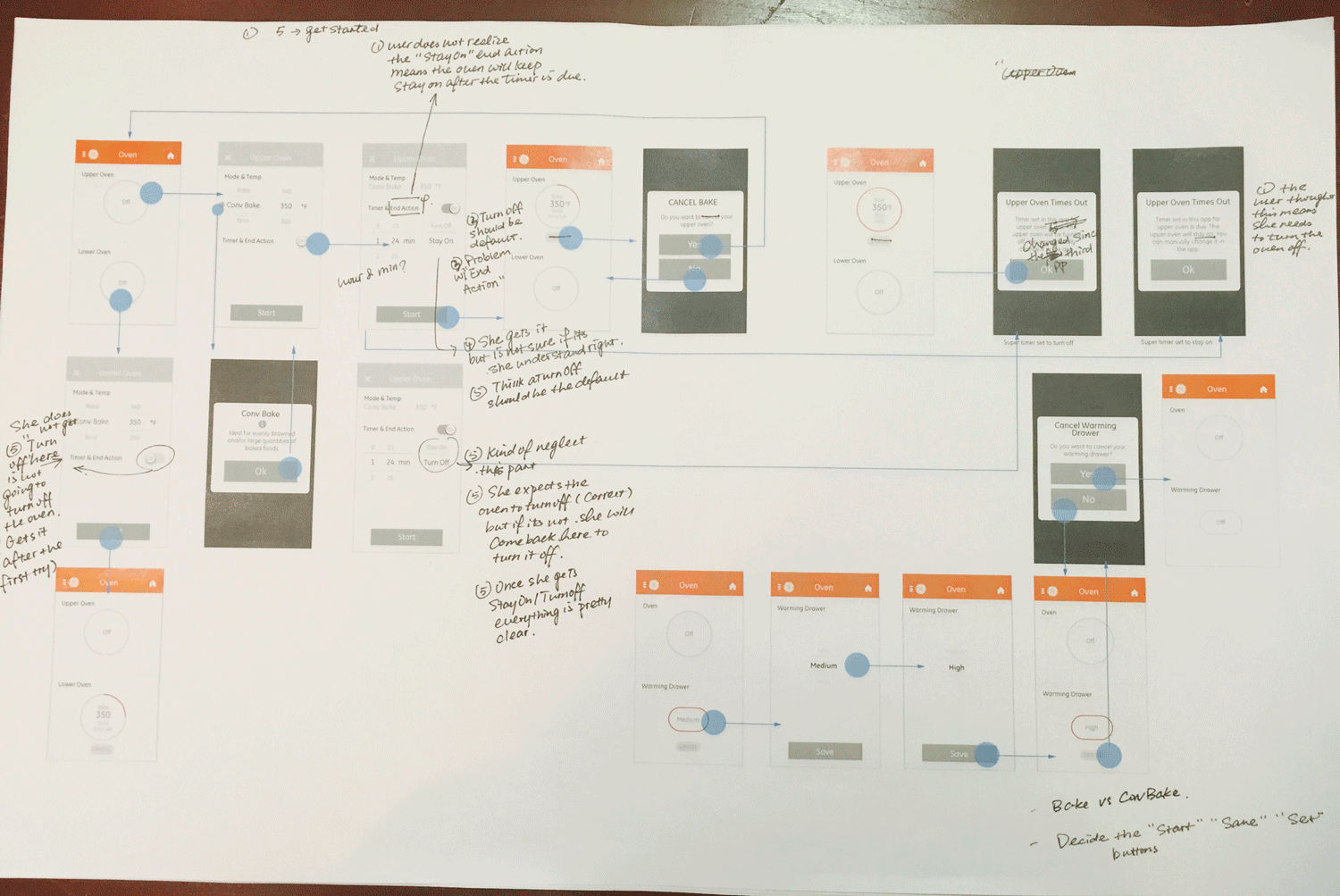 Fridge App
Prototype
Fridge hot water was one of the many prototypes I built for the Kitchen apps. It facilitates connected app demonstration on the sales floor.
Style Guide
App for downloading